Heading
Expertise in Continuous Emissions Monitoring
Public and private industrial operations from mining to landfills are under increasing pressure to control, monitor, and mitigate stack air pollution.  The EPA's Clean Air Regulations set in-stack emissions limits for pollutant concentrations at the point of release, and facility operating licences require emissions monitoring on a continuous basis.
Non-compliance with licence requirements or failure to control heavy emissions can result in increased scrutiny by regulators, steep fines, or even plant shutdown.  For this reason, it is critical to have a monitoring system you can rely on.
Norditech boasts over 14 years of experience in designing and maintaining Continuous Emissions Monitoring Systems (CEMS) for facilities across Australia. Our clientele, comprising of glass factories, power stations, incinerators, and tunnel ventilation stacks, operate round the clock and require a dependable support system and responsive technical team.
We understand the crucial role a robust and dependable solution plays in the smooth functioning of your facility and your peace of mind.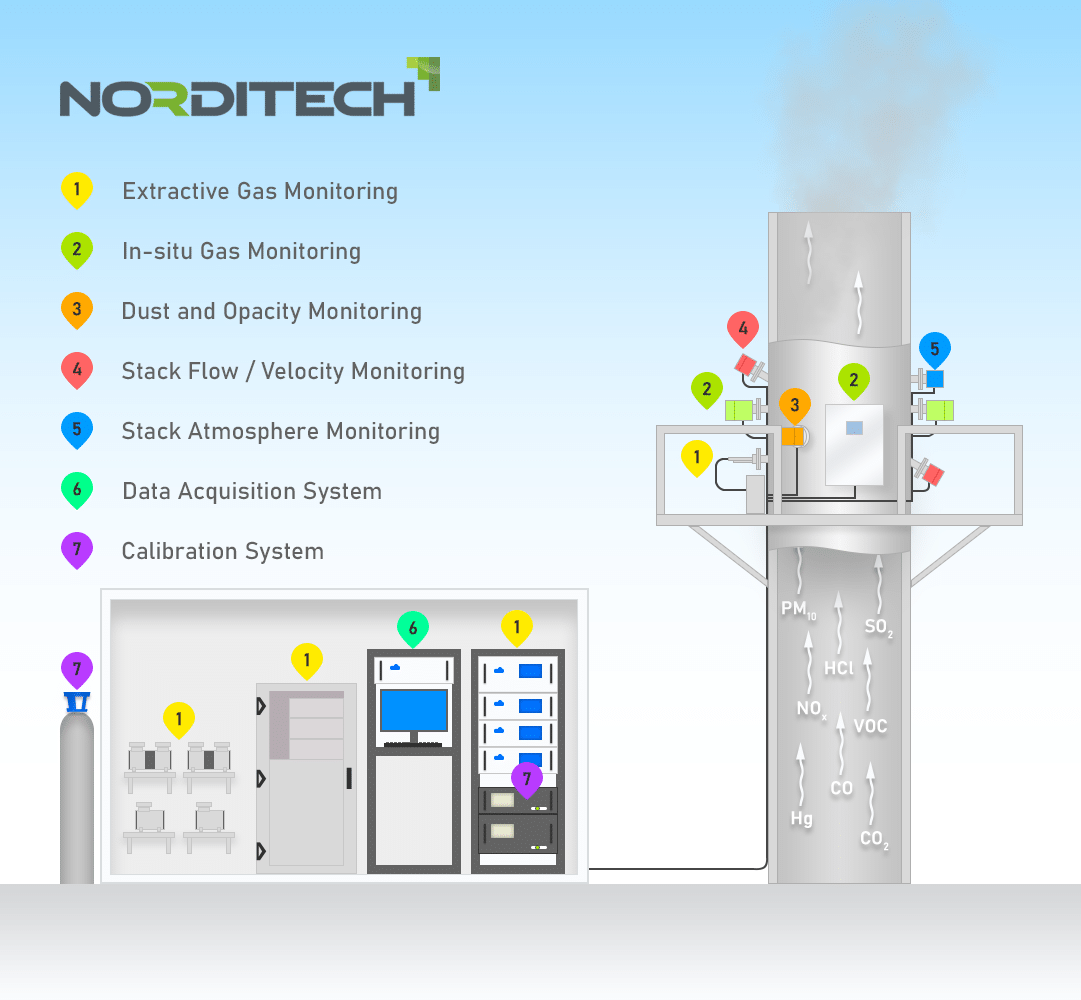 Heading
Our Approach
Our foremost objective in every project is to comprehend our clients' needs. We then suggest practical and cost-effective solutions that align with your compliance targets and project budget, which can include maintenance, site assessment, project management, design and installation, data acquisition, validation, and reporting, as per the project scope.
For optimal process control and stack emissions monitoring, industrial facilities require robust and durable monitoring equipment capable of continuous operation in challenging conditions. We prioritise reliability and low maintenance while selecting gas and particulate analysers for your facility.
Our field engineers possess extensive expertise in Continuous Emissions Monitoring Systems (CEMS), and we offer a comprehensive range of tailor-made CEMS products. This enables us to provide customised systems that optimise efficiency and minimise maintenance costs.
At Norditech, we manufacture fully engineered and integrated systems in our factory, which are then installed by qualified technicians on site. This guarantees proper workmanship and system integration to meet your project specifications precisely.
Heading
Monitoring Methods and Technologies
At Norditech, our hands-on field experience with stack gas monitoring methods and technologies includes all required components of continuous emissions monitoring systems (CEMS), such as stack gas sampling systems, sample conditioning systems, data acquisition and management systems, and dust monitoring systems.
Methods:
Stack gas sampling systems: direct extractive, hot/wet extractive, dilution extractive, and in-situ
Sample conditioning systems
Data acquisition and management systems
Technologies:
Non-Dispersive Infrared (NDIR)
Fourier Transform Infrared (FTIR) spectroscopy
Differential Optical Absorption Spectroscopy (DOAS)
Flame Ionization Detector (FID)
Chemiluminescence
Triboelectric
Light transmission – Opacity Meter
Forward light scatter
Electrochemical cells
Paramagnetic O2 Analysers
Zirconia O2 Analysers
Ultraviolet Fluorescence (UVF)
Photoacoustic Spectroscopy (PAS)
Cavity Ring-Down Spectroscopy (CRDS)
Tunable Diode Laser Absorption Spectroscopy (TDLAS)
Heading
Parameters Monitored
We are experienced in monitoring a broad range of CEMS parameters for our clients.  Depending on the nature of your project, they may include:
Nitrogen oxides (NOx)
Carbon dioxide (CO2)
Oxygen (O2)
Sulfur dioxide (SO2)
VOCs
Total or hexavalent chromium (THC)
Carbon monoxide (CO)
Mercury (Hg)
Furans
Dioxine
Hydrogen fluoride (HF)
Dust/Particulates: 'Fine' and 'coarse'
Volumetric flow rate
Opacity
Heading
CEMS operation and Maintenance Services
We provide a complete range of operation and maintenance services for your CEMS. Our team of skilled technicians offers regular preventive maintenance to avoid unplanned interruptions, as well as corrective maintenance when required. We are capable of troubleshooting and repairing all kinds of systems and monitoring equipment.
Furthermore, our remote performance monitoring solution enables us to detect and address any problems before they become critical faults. With our assistance, you can be confident that your CEMS complies with regulatory requirements and operates efficiently. We generate validated emissions reports in accordance with your license requirements.
Contact us today to learn more.